Firmware of your STB is outdated Please update it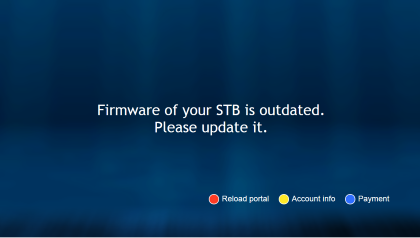 There are few reasons for this to happen:
Update 5 April 21:30 CET time:
The bug that causes "Firmware outdated" error for VEWD and STA devices (older Philips, Toshiba, HiSense, etc.) is fixed in all locations, please make sure to unplug your TV from Power for few minutes to clear cache and start the app again.
We are sorry for the caused inconvenience.
---
Your Provider is running very old version of the Portal. For example 4.8.xx. The app is tested and working with 4.9.x and 5.x versions up to latest version
--or--
Your Provier's Portal settings have changed due to Upgrade from their side.
Sometimes Providers need to adjust their updated Portal to allow non-MAG devices to use it. 
--or--
Your TV's security settings is causing this (Samsung Tizen TV's only). Most likely Portal has introduced different protection due to upgrade. To get around it, make sure you have full and correct Portal URL.

Correct Portal URL are like 
http://some-provider.tld/stalker_portal/c/index.html 
http://box.some-provider.tld/c/index.html 

Wrong Portal URL looks like 
http://box.some-provider.tld/
http://stb.some-provider.tld/
http://mag.box.some-provider.tld/

that redirects to 
http://some-provider.tld/stalker_portal/c/index.html 


Some redirects are not supported on Tizen TV's