Try the app (new app Trial and Activation info).
Install the app
Before we start:
Please read this carefully. When you have installed the app on your TV, please go to the bottom of the page and click "Start app Trial".
The Smart STB app does not provide or include any streams, Portals, providers, m3u lists or logins (usernames/passwords).
If you get Login screen after Loading Portal, ask your Portal admin for username and password.
You will need your own Portal or other stream source (m3u playlist) to use the app with. We do not provide or offer any streaming services, portals and playlists.
The app can connect to most popular middleware solutions. However some Portals or playlists might not be (fully) compatable. Please test few different Portals.
The app Trial is fully functional, there are no differences from the full (paid) version. You don't need a credit card to start your app Trial. Please try the app before buying a license.
For Smart TV's
Please search in your Smart TV's app store for Smart STB.
The app is available on Samsung TV's (Orsay and Tizen OS, made after 2013), LG TV's (Netcast 3.0 and higher, any WebOS version), variety of TV's running Android TV (version 9 or newer), Fire TV's (including devices like Firestick made in 2017 or newer), Opera (TV OS), VEWD, STA and some others. Most TV's made by Sony, Philips, TLC, Toshiba, HiSense, Panasonic (with Android, MyHome support is coming soon) and many others.
Important: Please use your TV with Wired (Cable) connection to your Router. Avoid WiFi and/or 3G/4G/5G connections if possible.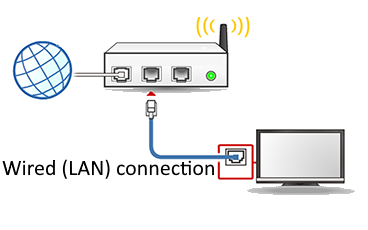 For FireTV and Chromecast
If using a Firestick, Chromecast, Firecube or other similar portable device with no Cable/LAN connection, please use a high quality 5GHz AC WiFi router or better connected to fast Wired, Broadband or Fiber connection close to the device.
We recommend you to use adapted streams for portable devices for best streaming service stability.
For Handheld devices (Smartphones, tablets)
The app is avaialbe for many Smartphones and Tablets running Android version 9 or above.
Please use a high quality 5GHz AC WiFi router or better with a stable Wired Internet connection close to the device or a stable 4G connection with excellent signal to the mobile tower.
We recommend you to use adapted streams for mobile devices for best streaming service stability.
It is possible to use the mobile app with different Portals from the TV app at a small cost for a separate license for each device.
To link a mobile device to your paid TV app license, make sure they are all connected to the same Network at your home.
How to activate:
Follow this instruction:
You will get an activation code on the next step.
Start the app on your TV and wait for the "Loading Portal" message to appear.
Please enter the code from the next step using your TV Remote's number keys while you see the "Loading Portal" message.






For TV remotes or devices that do not have numbers on the remote control please press the Middle or Center key on your remote to show the app menu. Go to System settings and then go to Activation. Use the software (virtual) keyboard to enter the code.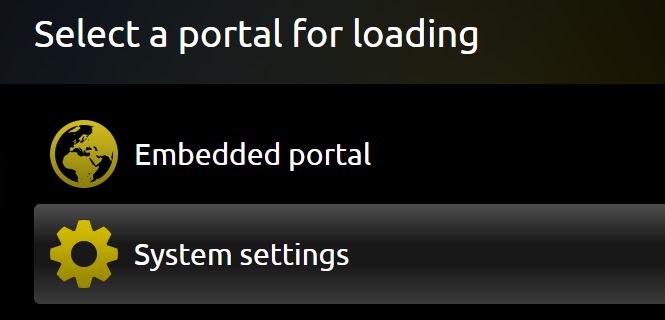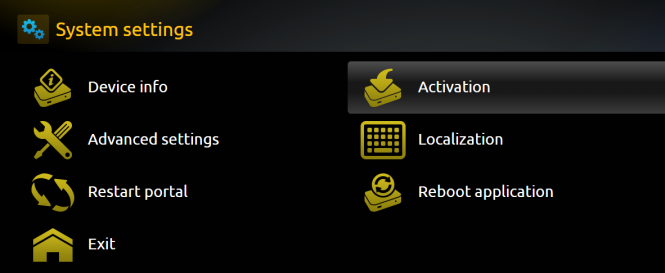 Follow the instructions on the next steps to complete your app activation (put a Portal, etc.).
Final notes:
1. We do not provide any streams, you need an IPTV Portal or an m3u playlist to use the app with.
2. Quality of content and streams depends on your Portal, the app just plays the streams from the Portals.
3. Payments are non-refundable. You must try the app first (risk free, no credit card needed for trying the app). Click here for Payment methods.
4. To see the price of the app: click here.